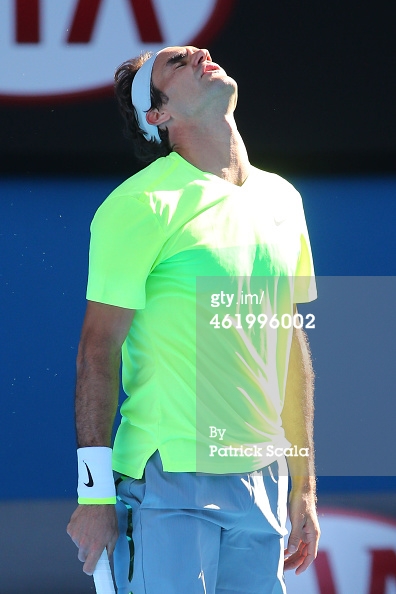 Roger Federer's third round loss at the Australian Open will raise the usual questions about this late stage of his career. Should he call it quits now? Has his time passed?
It seems odd to be urging the world's second best player (by ranking) to retire. The heart says keep on going. The head?
There have been only 11 men in the open era of tennis to win a major in their 30s. Only four (Laver, Rosewall, Connors and Agassi) have done it more than once. For Federer to join that band, he will have to defy not just age, but statistics.
As players enter the later stages of their career, the big wins dry up. So far, the biggest gap in terms of days from penultimate major to last is Arthur Ashe, who took nearly 2,000 days between his 1970 Australian Open and 1975 Wimbledon victory.
Ashe's gap is something of an oddity. If we look past, Federer is next with nearly 900 days between his 2010 Australian Open and 2012 Wimbledon win. That's ahead of Sampras (791 days) from Wimbledon 2000 to the US Open 2002. Even Agassi took over 700 days between his final two slam wins in Australia.
For Federer to win another, the gap would be at least 1,000 days by the time we get to the French or Wimbledon in the summer of 2015. Not impossible, but unlikely.
In terms of slams, Federer's last gap of 10 events is already higher than the gaps Agassi (8) and Sampras (9) posted between penultimate and last wins. If Federer were to win a slam in 2015, it would be 11, 12 or 13 slam events since his last victory – a gap that looks less and less likely to be bridged.
In other words, recent history shows that it just won't happen. Last hurrahs don't happen twice – and Federer has already had his.
Gap in days between penultimate and last major titles
(men over 30 in open era)
| | |
| --- | --- |
| Ashe | 1985 |
| Federer* | 889 |
| Sampras | 791 |
| Agassi | 728 |
| Newcombe | 479 |
| Connors | 364 |
| Rosewall | 354 |
| Laver | 65 |
* For Federer to win another slam, at least 1,064 days will have elapsed.