As Tom Brady works out which finger to put his seventh Super Bowl ring on, there are plenty of ways to admire his performance and achievements. As a friend (Leo in HK) put it to me today, he's a statistician's dream.
But there's one statistic for me that stands out for Tom Brady, 2021 edition. In the regular season, he rushed for a total of six yards.
Six. Yards.
That's not a lot for a quarterback in a single game. For a whole season?
OK, so Brady is 43, which means I'm going to cut him some slack. He's not there to scamper about and pick up yardage with his legs. He's there to pass in the pocket and run the game like the old pro he is, still the best around.
However, his rushing yards mark him out as a dying breed. Here's why.
The NFL is a constantly evolving league in terms of tactics. Some are inspired by rule changes. Some rules are coach and stats-led – for example, more teams are now willing to gamble on 4th down and risk giving the ball back to the opposition, rather than punt the ball away. And some tactics evolve given the personnel at teams' disposal. For example: the running quarterback.
Traditionally, the quarterback passes the ball from the "pocket" – an area where he is protected by his linesmen. Some quarterbacks are more mobile than others, making passes as the pocket breaks down and being able to pass on the run (Patrick Mahomes and Aaron Rogers are amazing at this). Others have been known as scrambling quarterbacks – able to run the ball when pass options downfield were covered by the defence. But scrambling was a last resort, when-things-break-down move.
Now, some quarterbacks are now such good runners as well as throwers of the ball that plays are being designed for them to run straight away. Lamar Jackson of the Baltimore Ravens and Kyler Murray of the Arizona Cardinals are the two brightest examples in the league. More will follow.
This presents defences with a nightmare. Normally, a defence has to guess what the opposing offence is up to: will they try to run the ball, or pass it? And the formation of the offence gives away a lot: you can sometimes see by how players are positioned whether the offence set up to run or pass. If there is no running back and four or more wide receivers on the field, that would mean it's a passing play. But if a team has Lamar Jackson, that might be misdirection – he could be ready to run.
And Jackson is running – a lot. In both of the past two season he has rushed for over 1,000 yards, a mark that is usually only attained by specialist running backs. Murray rushed for over 800 yards in 2020.
Overall, the total yards rushed by quarterbacks has risen over the last few seasons. In 2020, it was over 9,000 – the highest ever.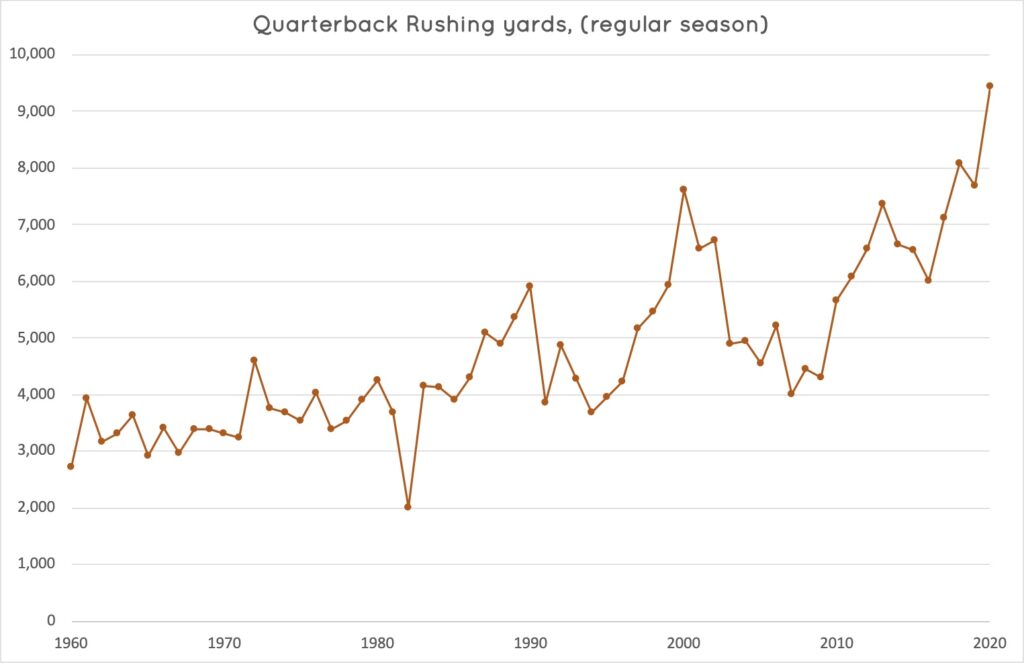 Not only that, quarterbacks are rushing at crucial moments – rushing touchdowns by quarterbacks have leaped up – in 2020, there were 126, a record. That's 40 more than in 2019, and double the number from only five seasons ago. Quarterbacks now account for around a quarter of rushing touchdowns. A decade ago it was about one in ten.
The rushing quarterback might also be changing other stats. The recently-completed 2020 season saw the fewest interceptions (on a per game basis) ever. The defence caught opposition throws on only 395 occasions – the first time under 400 since 1982 (a strike-shortened year). Why is that? It could be that quarterbacks are more accurate, or there are softer defences. But it is also noticeable that in crucial moments when a team needs yards to keep a drive going, quarterbacks are trusting themselves to run for it rather than throwing risky passes.
So how will this evolve? There are a current crop of young quarterbacks who are comfortable running if needed – Patrick Mahomes and Josh Allen for example – as well as out-and-out runners like Jackson and Murray. And some of the less mobile old guard will retire soon – Tom Brady and Drew Brees, both two of the all time greats, are over 40. Even some of the longer- established quarterbacks are good scramblers – Russel Wilson and Aaron Rogers pick up crucial first downs on the run.
Into the league will come talented players such as Trevor Lawrence, a college player soon to be drafted in the first round and touted as a potential great. Lawrence's passing ability is hugely exciting, but he can run too. The role of the quarterback is evolving, and defences will have to keep up.
Sources:
https://www.statmuse.com/nfl/ask/qb-rushing-yards-percentage-each-season
https://www.pro-football-reference.com/years/NFL/