Question: Should Roger Federer go quietly into the night?
It's the first slam of 2014 – the Australian Open – and Roger Federer isn't in the running.
That's according to the bookies, who have made him fifth favourite and a pretty outside punt at around 20 to 1.
He's seeded 6th, which doesn't sound bad to mortals, but after a decade as either 1 or 2 seed at most events, it feels low.
After a 2013 when he didn't reach a single grand slam final – and only one semi, the question of his retirement has become more of a debate about dignity than possibility. A new coach – Stefan Edberg, of all people – and a new racquet don't seem to be putting the pep in his step yet.
One way to judge this not simply to look at Federer's results, or demeanour, but to find a reasonable comparison. And that player is Pete Sampras – someone Federer has frequently been compared to throughout his career. The comparison is now becoming even more piquant.
Sampras had a similar period of domination in tennis, followed by a tough autumn of his career. But he did something few players get to do: he finished the game as a slam winner, taking the US Open of 2002 vs Andre Agassi, and never played on the main tour again.
The possibility of such a last hurrah is clearly what is driving Federer on. His recent losses in big events to rank outsiders and journeymen such as Tommy Robredo are awful in their way, of course. But only a couple of months on from losing to George Bastl (!) at Wimbledon 2002 in R2, Sampras was able to quit at the very top.
There are differences, of course – but these if anything should give Federer fans hope. Sampras's ranking plummeted further than Federer's has – he was 17th in the world in his final match, whereas Federer is still top 10.
On the other hand, Sampras had been to the US Open final in 2000 and 2001 – Federer hasn't been in a winning position like that for some time. However, in both those matches he lost to Marat Safin and Lleyton Hewitt in such a manner (both straight sets losses) that it only served to highlight his decline. Basically, he was crushed. Nobody saw the 2002 US Open coming – even his rivals dismissed his chances publicly, which you're pretty unlikely to hear about Federer this year.
So these charts should give Federer and his fans hope. They show Sampras and Federer's slam careers – the high degree of similarity – and the last hurrah. Sampras starts with an early success that took a few years to translate into winning the big titles on a regular basis, whereas Federer won his first major later, but then won more slams more often.
The red boxy bit is their period of domination – and the red dots their slam win outliers.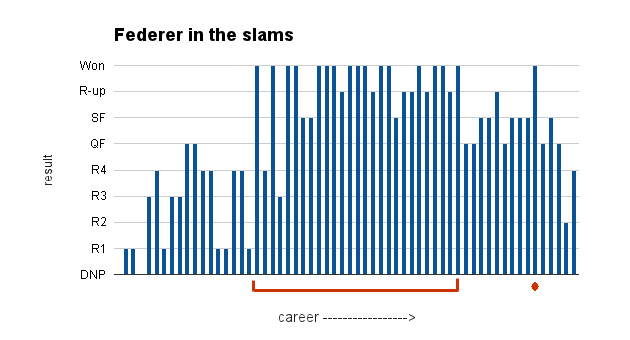 The question is whether Federer can emulate Sampras with a last big win (as Edberg believes he can) – or if that last win has come and gone, in Wimbledon 2012. Statistically, it looks more and more unlikely with every passing slam. But this is more about dreams than reality.
After the US Open win against Agassi, Sampras's only mistake was to suggest in 2003 that he might make one more run. It was pride talking, and luckily he didn't try. But if Federer can land one more major in 2014, his course of action should be very clear: retire right then, right there.