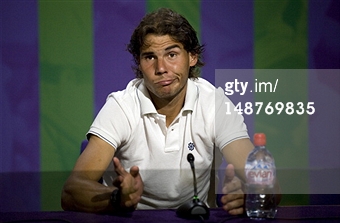 No one can be happy about this.
Grass court tennis has been something of an anomaly on the tour for many years now – there are only a handful of tournaments, and then the biggest catch of them all: Wimbledon.
So when the All England Championships garnered agreement back in 2001 that it could continue to re-jig its seeding, but only by accepting that it had to take the top 32 players in the world, it seemed like a victory for common sense.
And yet we are back at square one. Rafael Nadal is a two-time champion, three-time finalist. He's just won the French Open. But because of his long injury, his ranking is #5 in the world.
No matter – Wimbledon can bump him up, to 4th or even 3rd seed, surely?
Except it hasn't worked out that way. Wimbledon now use a formula to work out grass court credentials. It is basically a player's ranking, plus 100% of grass court points in the last year, plus 75% of the year before.
And that is not enough for Nadal, who lost in R2 in 2012, but was a finalist in 2011. He is 5th seed, behind David Ferrer, who has been to the quarter final just once at Wimbledon.
This isn't madness – it's rational. But it fails the smell test. Ferrer isn't going to win Wimbledon – whereas Nadal has a damn good chance. A decent formula has come up with a nonsense answer. And when the draw comes out on Friday, Nadal may well play any of Federer, Djokovic or Murray in the quarter-finals – a big shame.
This reminds me of the 2007-08 (and onwards) financial crisis. Essentially, the players rankings are a mark-to-market valuation of their rolling 12-month form. But we all know that they are a guide, and a fallible one at that. Otherwise the #1 ranked player would win every time.
What Wimbledon has done is add to that mark-to-market pricing their own extra value-at-grass quant formula, to try and iron out the errors in the value of players measured on other surfaces – concrete and clay, essentially.
But just like the subprime crisis which had its origins in the slicing and dicing of bad mortgages to come up with collateralised debt products, giving them an 'A' rating, Wimbledon has sliced and diced the grass numbers, and come up with an equally meaningless result.
Part of the problem is that Nadal and many other players don't play the grass court warmup events – and therefore don't have grass ranking points from lesser tournaments – as the French Open and Wimbledon are too close together in the diary. The players need rest instead.
This could all be solved by spreading out the French and Wimbledon tournaments, and creating a grass masters series event in between, to give the grass season proper ranking weight – but everyone has known that for years, and it's not happened yet.
But unlike the financial crisis, the result of using poor incentives and ill-judged computer formulae won't result in economic armageddon. It will just skew the tournament a bit and mess up the finals schedule, annoying a few advertisers and a lot of fans. Still a pity though. The sport deserves better.